Chinese companies in the UK maintain impressive growth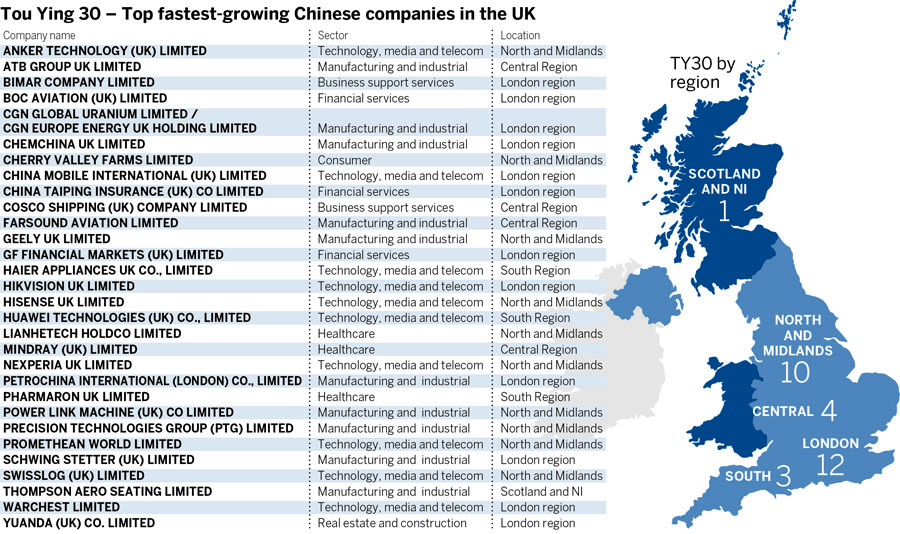 China-owned technology, media and telecommunications companies based in the United Kingdom grew rapidly last year, when the 800 largest Chinese enterprises in Britain increased revenue growth by 17 percent on 2018, according to a new report.
Produced in collaboration with China Daily, the Grant Thornton Tou Ying Tracker 2019 was released in London on Thursday, revealing both the largest and the fastest-growing Chinese companies in the UK.
UK professional services company Grant Thornton identified companies that have filed an audited revenue figure at Companies House in at least one of the last two financial years to September 2019, and that are at least 50 percent owned by a Chinese corporation, investor, or national.
They found around 800 such companies, and also identified the top 30 fastest-growing Chinese companies in Britain.
Last year, those 800 companies amassed a combined revenue totaling 91 billion pounds ($117 billion), up from 68 billion pounds in 2018 when 750 companies were analyzed. Overall revenue growth was up 17 percent, compared with 12 percent growth in 2018.
Grant Thornton said that the 30 fastest-growing Chinese companies in the UK grew at an impressive rate last year, registering an average increase in annual revenues of 62 percent.
While manufacturing and industrial companies made the most revenue last year, tech, media and telecoms companies posted the fastest average growth of 81 percent.
Simon Bevan, head of Grant Thornton's China Britain Services Group, said that strong bilateral relations and key political and economic developments over the past few years contributed to a favorable business environment for many of the listed companies.
The pound has remained weak against the yuan since the UK voted to leave the European Union in 2016, making Britain an attractive destination to Chinese investors.
Chinese investors completed 4.2 billion euros ($4.7 billion) in transactions in the UK in 2018, the most in Europe by a wide margin, ahead of second-placed Germany at 2.1 billion euros and France in third at 1.5 billion euros.
Bevan also noted that recent trade friction between the United States and China had boosted the flow of goods and services between the UK and China.
Total trade between the US and China contracted between 2018 and 2019, according to China customs data. In contrast, China-UK trade in goods totaled $86.3 billion in 2019, an increase of 7.3 percent year-on-year, and double the figure from a decade ago, according to data from the Chinese embassy in London.
Bevan said that UK-China trade and investment has the potential to remain strong moving forward, as Britain looks to bolster relationships with major economies post-Brexit.
"There are signs that the pro-Brexit government elected in December 2019 is likely to build trade and investment channels with countries like China as an antidote to greater friction in UK-EU trade," Bevan said. "Chinese companies with plans to operate in Europe are likely to continue to be attracted by the UK's geopolitical and fiscal policies, even if it becomes necessary to tackle the UK and the EU as two separate market opportunities."
Bevan said a "wide range of international events and trends" will continue to shape trade and investment patterns between the UK and China for some time to come.
"Having enforced a more focused overseas investment strategy, China remains generally keen on seeing growth opportunities pursued internationally in a range of strategically valid areas — from Belt and Road infrastructure projects to cutting-edge technologies," he said.