The Hunting Month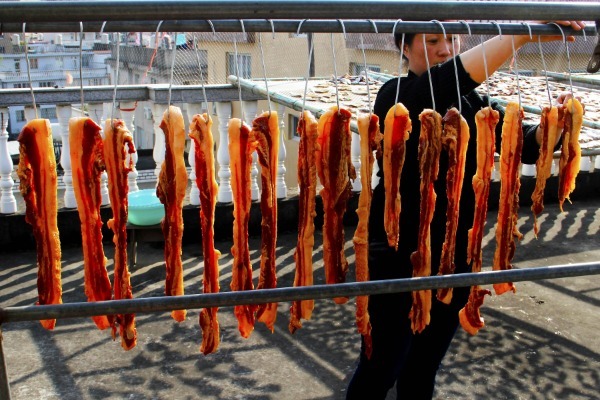 The last month of the lunar calendar used to be called the Hunting Month, or La Yue, in more rustic times. That was when traps were set in the wild to catch pheasants, rabbits, deer and wild boar in preparation for the rounds of feasting during Spring Festival, just a week away from now.
In spite of the urban spread of China's population, the year-end tradition of preserving meat is still very popular, where a variety of birds, cuts of beef, mutton, pork and fish can be seen strung up in backyards and balconies alike to catch the winter north wind and sun.
Sausages are made from hand-cut pork belly and marinated in salt, sugar and yellow rice wine, which has a characteristic red tinge.
This is also the time when fresh duck or goose livers are marinated in spices, sugar and wine and stuffed into intestines. Unlike the meat sausages, these seasonal delicacies are only available for a limited time.
One regional specialty is whole pig liver, hollowed out and stuffed with a piece of pork fat. Surprisingly, they are not hard to eat. The liver turns firm during the curing process, while the fat turns crisp and transparent. The Cantonese cook steams, then cuts these liver sausages into very thin slivers, serving them on slices of steamed arrowhead or yam.
More familiar are whole ducks which are spatchcocked, spiced and salted. The intensely savory birds will be a highlight on reunion tables on Lunar New Year's Eve. Surprisingly, chickens are cooked fresh and seldom cured in the southern regions.